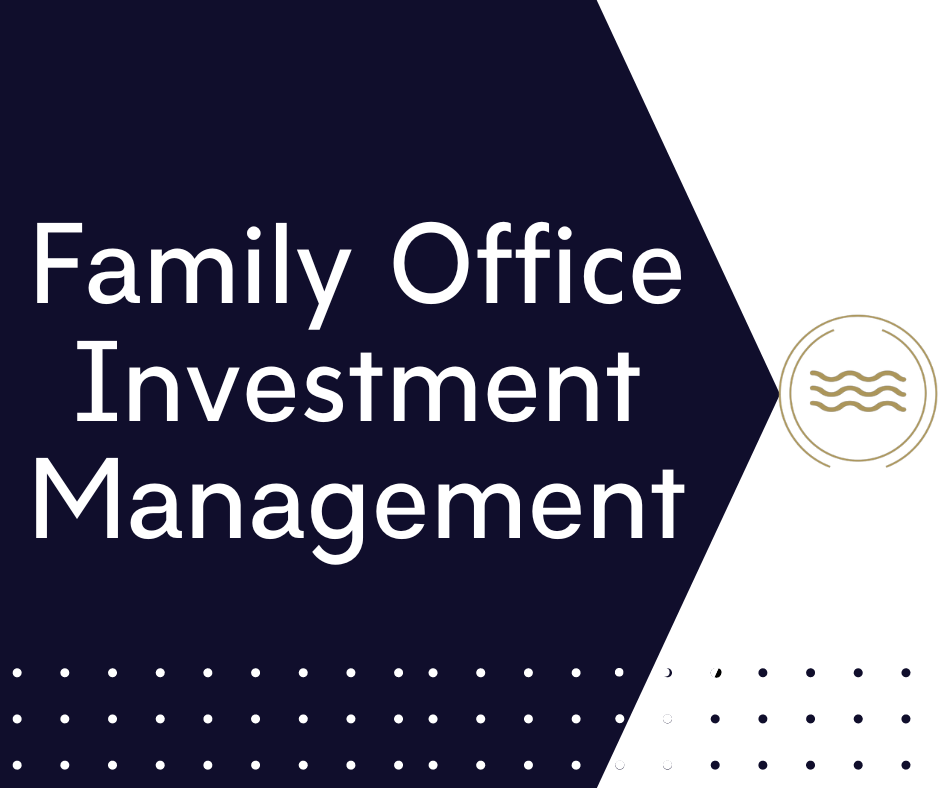 Family Office Investment Management
Family Office Investment Management
Family office investment management is different from traditional wealth management as it offers a total solution to managing the financial and investment needs of a high-net worth individual or family.
A family office is any collection of professionals, whether separate from a family business or not, which provides dedicated personal and/or professional services to a family. This may include one or more individuals; or an advisory firm managing the operational aspects of family life, including but not limited to their residences, travel, and asset collections.
Family offices can also cover the professional staff managing the accounting, tax and estate planning, etc. These services can be performed by as few as two, or as many as 350 or more people, in-house.
What is Behind the Recent Rise in Family Offices?
The rise in the number of family offices is due to the increased flexibility and control families wish to have over their assets, their interests in alternative investment options as well as the changing economic decisions that could exist across multiple generations.
Family offices also allow wealthy individuals/families who generate wealth by having domain expertise in a specific industry to extend their relationships, operating experiences and general thought leadership.
The Process of Interfacing with Family Offices
As each family office is unique (as a result of the valuation, needs, family objectives, etc.), there is no uniform way to deal with each family office. This may lead to some challenges which will be addressed below.
The Challenges of Dealing with Family Offices
One of the biggest challenges that a family office may face is lack of organization – especially in the instance where the family's assets are more sophisticated.
Family office principals may also have a variety of different interests and in many instances, early-stage venture capital investments are made in informal settings where the investor has little to no knowledge of the relevant industry. This may not necessarily be a problem; however, it is important that the principal member of the family office performs the necessary due diligence on the private investments and ensures that it meets the investment objectives that were previously determined upon setting up the family office.
From an external perspective, private investments by family offices may take more time to finalize than that of the average investor. Family offices would like to create as much optionality as possible and it may be more difficult to arrange favorable terms for all parties involved. This is due to the fact that whether or not a private investment is made, it may not impact the lives of the family members in any meaningful way – if at all.
How Do I Set Up a Family Investment Office?
Once it has been determined that a family office is feasible for the family, it needs to be determined what type of family office will be most suitable for the family. The first step is to decide if the family will opt for a single-family office or multifamily office (discussed below). Once this has been decided, the family will need to determine the scope, asset classes and levels, and the costs involved in setting up the family office.
What does the Future Hold for Family Offices?
Family offices are a dynamic part of the capital market and one that many agree on is growing quite quickly. Firms, such as Asena, who are providers of family office services, are also spending more time determining the best ways to service our family clients. Emphasis is also placed on sourcing and employing operational staff to ensure that the wants and needs of the family office can be adequately met and serviced.
Understanding the Basics
We have discussed the challenges and future of family offices; however, it is important to go back to the basics of the family office.
What Does a Family office Do?
A family office is a tool that can be used by high-net worth families to provide them with a wide range of services (such as estate and tax planning, investment strategy and management in the form of asset allocation, lifestyle management services, etc.) while also preserving and promoting the values and identity of the family.
Is a Family Office an Investment Advisor? Wealth Investment Firms and Family Offices do offer some of the same services to clients (e.g. financial services such asinvestment and portfolio management and fiduciary services), however, family offices offer a larger range of services tomeet the wealth-related needs of the families they service.
How Much Money Do You Need to Start a Family Office?
Conventional wisdom still dictates that a traditional family office should be considered if the total net worth is at a minimum of $50million. In some cases, a net worth of more than $250 million is required. Setting up a family office can also be quite costly, and a family needs to ensure that they have the liquidity and cash flow to sustain the family office in the future.
The Importance of a Family Office Governing Board
As a family office can be viewed as a business in a lot of aspects, it is important that there is a governing board to oversee that the goals, investment objectives and that the other important needs of the family are met and preserved. The governing board also assists with decision-making, conflict resolution and with risk management. Most governing boards consist of family members and a single independent member (such as a fiduciary representative from a private bank or a family office firm such as Asena) and these members are able to execute the strategy and vision of the family and provide expertise in some key areas.
Goals and Complexity of the Family Office
The goals of the family office depend on the vision, strategy and investment objectives of the family. Similarly, the complexity of the family office is dependent on the assets and services required by the family (e.g. the services required from a family unit owning a single family business/real estate may be less complex than that of a family office set up by a family whose capital consists of venture capital/private equity).
The Many Disciplines of a Family Office
Providing the ultra-high net worth family with a comprehensive wealth management plan to sustain multiple generations requires a collaborative, well-coordinated team of professionals that provide estate, investment, insurance, legal and tax disciplines in an integrated manner.
How Many Family Offices are There in the World?
There is no formal data to provide the exact number of family offices in the world, there are estimations that there are 5,000 family offices in existence inside privately controlled businesses in the US, Europe and Asia. They have also estimated that there are between 2,500 and 6,000 single family offices in the United States alone.
When Does It Make Sense to Create a Family Office?
A family office makes sense for families who have reached ultra-high net worth status; however, the net worth and liquidity of the family are not the only factors to consider. Qualitative factors such as the valuation of the family's wealth, the complexity of their life and the priorities of the family are also important factors to consider.
If the family also requires lifestyle management, investment management, family wealth management or any other professional and fiduciary services, a family office can provide them with these services.
"Single Family Office" or a "Multi-Family Office"?
A single-family office caters to one family and oversees that specific family's lifestyle and financial wealth. The main purpose of this type of family office is to ensure that the priorities and goals of the family are pursued independently and, in a conflict-free manner.
Multifamily offices serve several unrelated families while offering integrated and highly customized services to participating families.
What are Critical Issues to Consider in Managing a Family Office?
Many families create family offices to address the challenges they may encounter and the most critical issues that the professional provider or Chief Investment Officer (in the case of a single-family office) need to consider is professionalism, privacy and confidentiality.
Another critical issue is the protection of the family's wealth, investment objectives and various asset classes for future generations; as well as putting suitable planning in place to ensure the peaceful transition of the wealth to the next generation.
Legacy Planning and Management
As mentioned above, a successful family office will ensure the protection and preservation of the family wealth for future generations and also ensure the peaceful transition between these generations. This is attained by ensuring that the governing board of the family office has put a suitable succession plan in place and has also prepared future generations for the inheritance of the wealth.
Lifestyle Management
Many family offices serve as a 'one-stop shop' for families as they can manage the personal affairs of the family members and see to their lifestyle needs. This includes but is not limited to financial and legal services, streamlining of business affairs and bill-pay functions.
People Want to Know
How much money do you need to open a family office?
A family office is ideal for individuals or families with a minimum net worth of between $50million and $100million.
Is a family office an investment advisor?
No. Similar services are offered, but a family office provides a wider range of professional services that can service the needs of a family.
For more advice on starting your own Family Office, reserve a consultation with one of our advisors in our Contact Us section to the right.