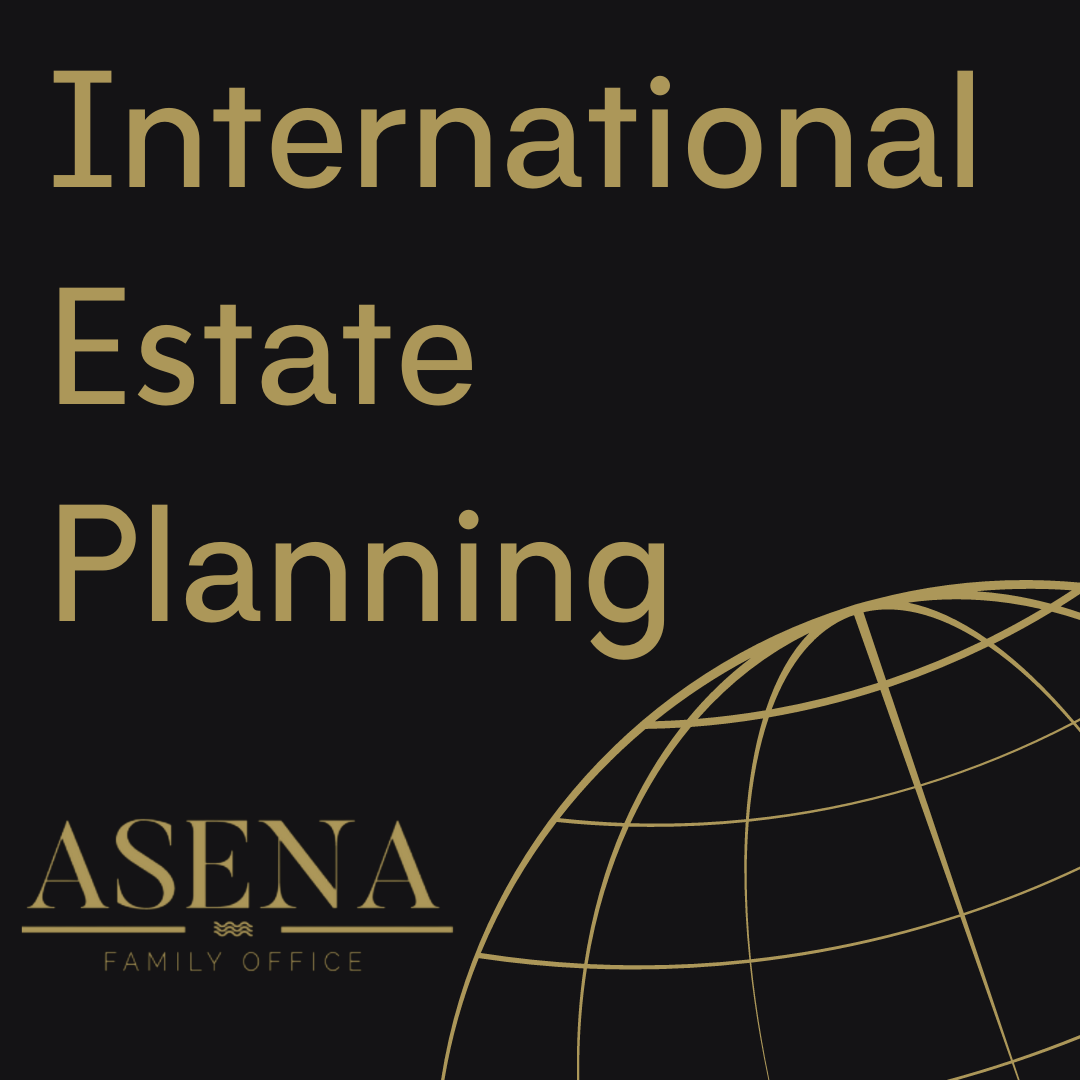 International Estate Planning
A short time ago, we had touched on the common pitfalls and necessary strategies a high-ultra networth individual residing in the United States would need to know when starting or in the middle of the U.S. estate planning process. Continuing onto that, we will be expanding the topic on a global scale and all the rules on taxation, residency, and succession that come with it.
International Estate Planning
International estate planning (or IEP) is a set of strategies and tactics applied to the U.S. and foreign clients to obtain the following objectives:
The first and most important objective is maintaining control and ownership of all wealth and property that the client has acquired in life and will be given upon their death. To determine said ownership and control, there are a few key factors to consider, such as:
The true domicile of the client and their beneficiaries;

The nature of the ownership rights of the client, their beneficiaries, and any political entities within which the property resides;

The tax jurisdiction between states based on local and international tax treaties to ensure efficiency when considering transfer taxes;

Transfers of control and ownership through trusts, contracts, and probate.
Another crucial objective is to the ability to provide absolute financial security for the client and their descendants that will last for multiple generations. As cash flow is an important way to leverage the behavior of family members, it is imperative to project the cash flow from the current assets and estimate the costs of winding up the estate. Financial security should also be ensured when the client is unwilling or unable to remain competent, as this can result in property, investments, and other financial assets to either be seized, lose monetary value, or be lost due to mishandling.
When is International Estate Planning Triggered?
There are several ways for international estate planning to be triggered when a U.S./Foreign client (with assets in the U.S.) either:
Accumulates or transfers a significant amount of wealth during their lifetime;

Probates, owns, or divides a significant amount of property (it should be noted that due to 'FATCA' and other reporting requirements, any amount above $100,000.00 is now considered "significant").
Financial security is not the only concern for IEP clients when it comes to efficient tax planning. The confidentiality of their personal tax and account information may rank higher on the list of importance, as international estate planning will require much financial accuracy and scrutiny in order to complete the process efficiently. 
Unfortunately, with the implementation of the OECS's CRS framework and the U.S. FATCA legislation, reporting on the client's financial and tax information is no longer optional. It is mandatory for all tax history and current finances to be present not only at the beginning of inheriting or purchasing an international estate but throughout the entire operation in the case of changes or situations that could arise. It is critical to know precisely the kind of information the client needs to disclose in the various jurisdictions and the consequences of non-compliance in order to avoid the latter.
Who Does International Estate Planning Affect?
There are two specific client groups that are most often affected by international estate planning within the U.S.:
Any U.S. citizen or non-resident aliens living in the U.S. who own assets or have family members residing outside of the USA;

Non-US resident individuals who own interest in property located within the U.S. 
These two groups of clients share having a connection, whether familial or business-related, to the U.S. For those looking into other countries, it is vital to research the laws, tax treaties, and such that their specific country requires for international estate planning. For example, some countries, such as Britain, may impose a global inheritance tax on beneficiaries for estates that meet or exceed a specific monetary value, while others, like Portugal, do not.
International Estate Planning: Five Key Issues to Consider
It is of utmost importance for global families (especially families with U.S. expats) to create an international estate plan which considers the succession, domicile, generation-skipping transfer, succession, and gift tax laws in each jurisdiction where distributions may occur and/or assets are held at the time of the client's death.
The U.S. imposes gift and estate taxes based on citizenship and domicile, which is more common in other countries, making planning for the U.S. expat particularly complex. To avoid the negative implications and consequences when the multi-jurisdictional estate plan is drawn up, the five factors below need to be considered for U.S. expats, green card holders, and/or other U.S.-connected persons.
Review The Basics of U.S. Estate and Gift Tax Law
The U.S. government imposes income and estate/gift taxes primarily based on citizenship. The maximum rate at which federal estate and gift taxes may be levied is 40%. There are tax exemptions and credits that Treasury amends on an annual basis, which typically excludes many U.S. citizens – due to this, many U.S. citizens are not concerned with estate tax planning.
Non-resident aliens may face estate tax on U.S. situs property (including shares and real estate in companies established or expanded into the United States). If the country in which the non-resident alien resides has an estate tax treaty, the jurisdiction where they are resident may have favored gift tax and estate treatment. If there is no estate tax treaty, there may be a cap on the tax exemption on their U.S. situs assets.
For individuals with a joint asset can bypass probate, with married holders adding 50% in value to their asset in the instance that one passes away. For more information, please read our article on issues to consider with joint assets to consider when doing international estate planning.
Understand the Jurisdiction in which The Decedent and Assets Are Situated
The United States offers generous gift tax and estate exemptions for U.S. citizens. However, other countries may have lower thresholds. A simple domestic estate plan may not address the complex issues which may arise if the client has assets in multiple jurisdictions.
The most significant difference is that of inheritance tax rules versus estate tax rules. Inheritance tax is typically paid by the person receiving the asset, while the estate pays estate tax. 
Succession laws also differ globally as many civil law countries in Europe, South America, and Asia have restrictions on who may receive assets at death – this is called forced heirship. The E.U. Succession Regulation (EU650/2012) alleviated some aspects of forced heirship. However, individuals may not assume they can proceed assets to any individual they want when residing within a civil law country.
Pay Attention to Nationality, Residency, Domicile, and Situs Rules
If multi-jurisdictional assets are considered, residency, nationality, and domiciled issues must be closely considered and understood. 
The estate tax for U.S. immigrants is imposed based on domicile. For estate tax purposes, a person is domiciled in the U.S. if they live within the U.S. and have no present intention of leaving. A Green Card may be a key indicator of their choice to remain in the U.S. and establish a domicile.
Other countries have codified requirements of when someone is resident and/or domiciled. European countries focus on how many days have been spent in the country when determining when worldwide assets will be subject to their local tax law. Multiple countries may consider the individual a domiciliary and/or subject certain assets to estate and gift taxes. In this instance, the special tie-breaker clauses in the tax treaties would need to be considered to avoid double taxation and determine legal domicile.
How certain types of property will transfer is subject to situs rules. Situs refers to a property's physical location for legal purposes. The general guidelines for assets typically forming part of situs assets for non-resident aliens include:
Real Property (Structures, Land, Fixtures, and renovations/improvements located in the U.S.);

Tangible Personal Property (property physically in the U.S., including physical currency);

Intangible Personal Property (depends on the nature and character of the investment);

Business Investment Funds (funds used in connection with a U.S. business or trade and then held in a brokerage or bank account – this includes the U.S. branches of foreign banks);

Personal Investment Funds (Checking/Saving accounts; qualified retirement plans; stock; bonds; life insurance, and annuities).
Check Relevant U.S. Estate Tax Treaties
Bilateral estate and gift tax treaties provide clarity on international transfer taxes. The U.S. has signed estate/gift tax treaties with sixteen foreign countries, with each treaty altering the rules regarding the applications of the estate and gift taxes between the two countries.
The content and protections afforded in each treaty may be vastly different while also providing a framework to determine the situs of the property, the domicile of the decedents, and the application of the relevant tax credits in order to avoid double taxation.
The benefit of the tax treaties for non-U.S. citizens is to alleviate the estate tax on U.S. situs assets, thus saving money while still preserving the value of the estate.
Regularly Update an International Estate Plan
Reviewing and updating a draft in estate planning is vital when acquiring assets in different jurisdictions or moving across borders. Structuring an estate plan in a single country may create unforeseen and undesirable consequences when the estate is being executed in another country. Reviewing the domicile and residency of someone at the time of their death is crucial for the functionality of the estate plan.
Individuals can cement the fulfillment of their wishes after their passing by approaching legal counsel to adopt a Last Will and Testament, which meets the requirements of the United States and any other foreign country to facilitate the distribution of their estate.
Reviewing any trusts that the individual may have is as important as executing a professional international Will. When trustees and settlors of trusts move between jurisdictions, it is imperative to be examining the treatment of trusts in the new jurisdiction for new requirements that will call for financial redocumentation or applying for a form, service, or taxation status.
Some countries, such as the U.K. and New Zealand, may impose entry and exit tax on trust assets, while others (mostly European countries) do not recognize trusts due to their definition and structure of laws surrounding inheritance (common law vs. civic law).
However, it is possible for trusts to be moved internationally, though it would have to be done without the full knowledge of foreign financial and tax laws. In some cases, this can be done unknowingly by actions of a trustee or a settlor, and this may create unforeseen consequences. Trustees or settlors of trusts are advised to seek specialist tax advice before relocating to a new country to accommodate the changes in their international estate plan.
Cross Border Issues That Amplify The Complexity of Estate Tax Planning
As with any transglobal purchase, any expat looking to purchase property in another country must be aware of the following issues that appear often:
U.S. Estate Tax Basics
U.S. transfer taxes can be applied to a U.S. citizen no matter where they are residing, the location of gifts property, or if they have died. U.S. expats are entitled to benefit from income tax relief in the form of foreign-earned income exclusion since there is no such benefit where transfer taxes are concerned.
U.S. expats should expect The United States Treasury to impose estate tax upon their worldwide assets at the moment of their death. These assets will include proceeds from personal property, retirement assets, life insurance policies, real estate, and other assets. 
Treasury may also levy an estate tax on certain assets which may have been transferred to others within a specified period before the time of the individual passing or in the case where the decedent/beneficiary retains an interest in the property after the death of the cedent.
Changes to the recent estate tax law have increased the threshold for federal estate and gift tax lifetime exclusion to very high thresholds. During the 2022 financial year, the exclusions are as follows:
$12.06M personal lifetime exemption;

Interspousal transfers: transfers between spouses are unlimited (during the lifetime of the spouses or after death as long as the transfer happens to a citizen spouse);

The unused portion of the exemption from the first dying spouse's estate can be carried over to the estate of the last surviving spouse. This will, therefore, increase the threshold for the last surviving spouse's estate as long as an election is made on the first dying spouse's estate tax return.
Should a U.S. citizen transfer any funds during their lifetime to a non-US citizen spouse, there may be a reduction in the U.S. citizen spouse's estate; however, the annual marital gift allowance is reduced from unlimited to an amount of $164,000.00 in 2022.
A Brief Overview of Contrasting International Transfer Tax Regimes
U.S. laws surrounding estate tax can be found in numerous states, with each possessing either similar or different criteria to be met critical differences, especially regarding state taxation and population, such as New York to Illinois. However, these differences are insignificant compared to the rest of the world. Most U.S. states make use of English common law, while other countries may make use of civil law systems. And as of October 2020, less than half of all American states and territories had ratified the International Wills Treaty and adopted the Annex.
Current civil law has been modeled after Roman law, resulting in statutes being longer, more detailed, and with less discretion and interpretive power to the court. 
Common law has more concise constitutions and statutes which afford more discretion and interpretive power to the courts when laws are applied to particular facts and circumstances.
As a common law country, the U.S. allows individuals more control and discretion in terms of distributing their wealth to their heirs. This is done by drafting a legal Will that provides specific instructions for the bequeathing of their wealth using the probate system.
Trusts can be used as vehicles to bypass probate and to avoid/defer estate tax. The estate is typically taxed before the distribution of wealth is made to the heirs. If a valid Will is not in place, state intestacy laws will determine how the decedent's property should be distributed.
Due to the fundamental differences in common and civil law countries, it is possible for the existing estate plan that the family may have in place to become outdated, ineffective, and perhaps very counter-productive. This is especially the case if the family relocates overseas. 
Concepts of Citizenship, Residency, and Domicile
Along with cross-border taxation and laws, another critical factor in any international estate planning process is how one's residency, citizenship, or domicile. These concepts have crucial significance in determining the transfer taxes to which the individuals could be exposed.
Expats need to understand any requirements and definitions under the laws of the countries where they live, work, and own assets. The likelihood that the effectiveness of an existing estate plan may deteriorate is dependent on where the family relocates and how much their existing assets integrate into their new country of residence as well. The duration of how long they are in the new jurisdiction is also a component an individual must consider before starting the process.
U.S. tax residency is determined using two tests: The first is the substantial presence test which measures the number of days an individual physically spends in the country. The second is based on the individual's permanent residency – i.e., as soon as the individual becomes a green card holder, they are deemed to be a U.S. tax resident. Let's also distinguish that a U.S. citizen is always considered a resident for income tax purposes.
Transfer taxes, however, do not consider the individual's tax residency. Instead, it will focus on the concept of domicile. Domicile is established by determining the jurisdiction in which an individual resides without the intention of leaving permanently at some time in the future. 
Should the individual meet the requirements to be regarded as a tax resident in the U.S. but does not have the intention to remain in the country permanently, a domicile has not been created. However, once domicile has been established in a country, the only way to sever it would be actually to move outside the country/emigrate. Immigrants may be able to obtain estate tax residency if a green card is obtained and they intend to remain in the U.S. permanently.
Transfer Tax Situs Rules, Tax Treaties, And Foreign Tax Credits
Now that we have gone over general key information and issues to be aware of let's dive into strategies, credits, and other rules surrounding global taxation for IEP.
Tax Planning Strategies: Cross-Border Pitfalls and Considerations
The transfer tax implications for expats and other non-US person's property will depend on the following:
The character and nature of the assets;

The physical location of the assets;

Whether there is an estate tax treaty between the country of domicile/citizenship or residence and the U.S.;

Whether there are any tax credits available in the U.S. and the relevant jurisdiction should there be an overlapping of any taxes which need to be imposed.
Understanding The Role Of Situs In International Transfer Taxation
As discussed above, situs is the Latin word for "position" or "site." In legal terminology, it refers to the property's location.
Federal estate taxes are levied on the worldwide assets of U.S. citizens and residents. For non-residents, the situs rule is that any tangible asset physically located in the U.S. will become subjected to federal estate tax. The rules for intangible property and assets are more complicated. It is possible for an asset to be considered a non-situs asset for U.S. gift taxes but may be considered to be a situs asset for U.S. estate taxes.
The Interplay of Tax Treaties Are Foreign Tax Credits On Cross-Border Estates
The U.S. currently has estate and gift tax treaties with fifteen other jurisdictions. The tax treaties serve important roles when determining the transfer tax consequences of the assets which may form part of the cross-border estate. The treaty may provide a meaningful reduction in estate taxes employing mitigating discriminatory tax treatments and double taxation.
The treaty determines the country of the donor/decedent's domicile and the country where the property is deemed to be located. Once this determination has been made, the treaty controls which countries can assess transfer taxes.
Some treaties relieve some of the burdens which may occur when a surviving spouse of the estate is non-resident upon the passing of a US-domiciled spouse. This is done by increasing the marital deduction for non-resident spouses. If both countries have claimed to levy estate taxes, a tax credit regime may be in place to at least reduce or eliminate double taxation.
When preparing the international estate plan for clients, the interplay between the relevant transfer tax regime and the relevant treaty. This is to ensure that the impact of domicile and citizenship is also considered in addition to not only the nature of the location and the property. The filer must also specify any benefit which has been claimed under the treaty in their actual tax filings. Otherwise, the presumed benefit may be lost. Unlike the tax treaties, the U.S. does not make any special claims to negate the treaty on the basis of the heir or decedent's citizenship.
Tie-breaker clauses are key factors in these tax treaties. How the tie-breaker rules operate depends on whether the newer or older situs rules are followed in the estate tax treaties. 
The most recently ratified estate tax treaties follow the rules based on the domicile-based approach. The treaty rules prioritize determining the jurisdiction where the decedent is domiciled. The domiciliary country can tax any and all transfers of property within the estate, while the non-domiciliary country may only tax situs property. Foreign transfer tax credits will then be provided to the non-domiciliary country by the domiciliary country for taxes paid.
The older treaties follow the more elaborate character/nature rules discussed above for non-resident aliens owning U.S. situs assets. The foreign jurisdiction's situs rules will apply to the portion of the U.S. person's estate in the foreign country. These treaties are not uniform; some eliminate double taxation better than others. Generally, provision for primary and secondary credits may be applied to reduce any potential double taxation. The non-situs country will grant a primary credit against the tax imposed on the situs country. Secondary credits may be issued where the individual situs laws of the countries determine that the property has situs in both or even neither country. 
Where there is no tax treaty, there is an increase in the probability of double taxation. Foreign transfer tax credits may still be able to provide a form of relief from double tax taxation, and the availability of same in the U.S. will hinge on the following:
Is the property situated in a foreign country?

Is the property subject to estate/inheritance taxes?; and

Does the property form part of the gross estate of the decedent?
U.S. Internal Revenue Code §2014 elaborates on the credit for foreign death taxes. It should also be noted that the potential foreign tax credits could be unavailable by Presidential proclamation if the foreign country does not provide a reciprocal tax credit to U.S. citizens.
Can Non-US Citizens Inherit Property?
Noncitizens are able to inherit property just as citizens can. One common example of special rules can apply to spouses when one of them is a non-US citizen. When the spouse who is set to inherit property from the estate is a non-US citizen, the marital deduction is no longer unlimited, even if the spouse happens to be a permanent U.S. resident. The rationale is to ensure that a non-US citizen does not inherit a large sum of money tax-free and then return to their native land. On the other hand, if the non-US citizen spouse were to pass away first, the assets left to the U.S. citizen would qualify for the unlimited marital deduction.
Just as the marital deduction is not unlimited to a non-U.S. resident spouse, the special tax-free treatment of gifts given to spouses during their lifetime is also subject to a limit of $164,000 annually. The amount is indexed for inflation and is subject to change annually.
Can U.S. Trust Own Foreign Assets?
Yes, it is possible for a U.S. trust to own foreign assets. However, it should be noted that certain countries or jurisdictions do not recognize trusts, which can result in higher taxes when or obstacles when transferring foreign assets. A possible reason is that the country or jurisdiction utilizes a civil law system rather than a common law system, with the latter allowing clients to use trusts for inheritance.
Look into whether the country you wish to engage in international estate planning operates on either a civil law or a common law system before beginning the process. If not, consult with your client or advisor to determine possibilities for you to meet civil law regulations and additional tax laws with little to no room for complications.
What is an International Will?
An International Will is intended to take effect in more than one country or jurisdiction. It can also be referred to as an Offshore Will and specifically deals with assets located in a foreign country or jurisdiction, whether from family, friends, or business-related reasons. Should it be intended for the Will to deal with the individual's worldwide assets, it may be referred to as a 'Worldwide Will.'
How an International Will is produced and finalized depends on the country or jurisdiction it originates from, but in many cases, it requires to be handwritten and witnessed by at least two individuals. Most countries with a common law system are accepting of a Will from the United States and vice versa, as well as recognizing if the Will was executed in the United States and vice versa. And with any of these cases, a Will can be written in a language of the writer's choosing.
Are Foreign Assets Subject to Estate Tax?
Citizens and permanent residents of the U.S. who are domiciled within the U.S. can be subjected to estate tax on their worldwide assets, including any foreign ones they have acquired at any point in time. Should there be a tax treaty with the jurisdiction where the assets are located, this needs to be considered when determining if foreign estate tax credits may be applicable. That way, you can either reduce incoming taxation or to avoid double taxation. Which solution, or another, that may apply to your case must be consulted with professional advisors before moving forward in order to avoid filing with inaccurate information and other legal consequences.
Our consultants can help you with your international estate planning case. Contact us to set up an appointment in the "Have a question?" section to the right.