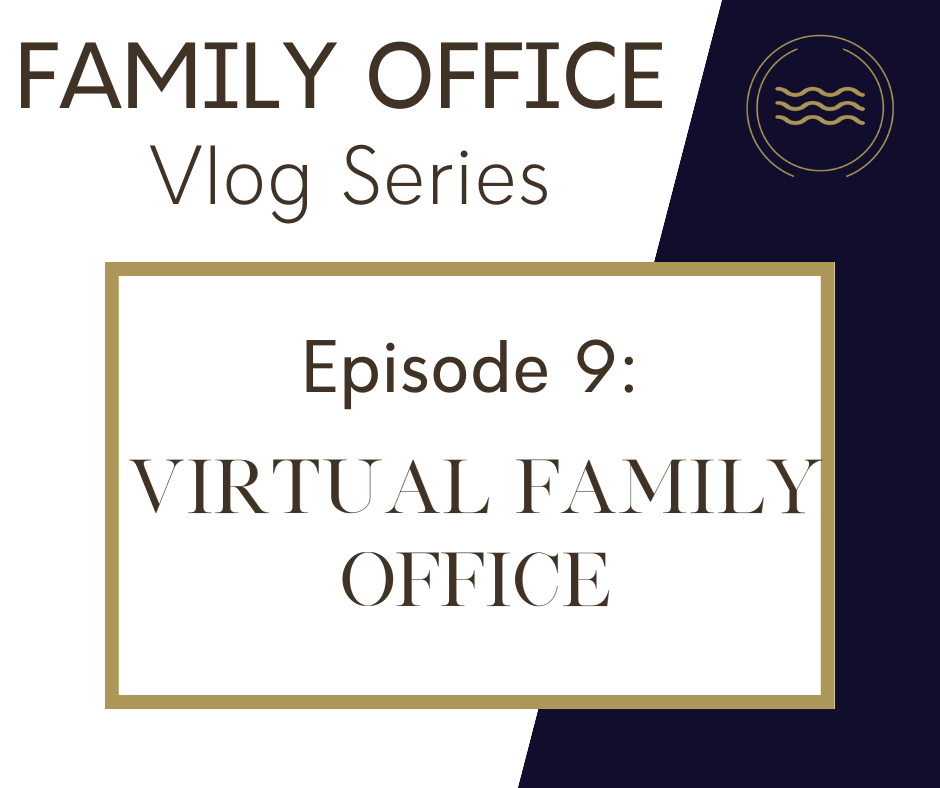 Family Office Vlog Series: Ep. 9 – Virtual Family Office
In our 9th episode of the Family Office Vlog Series, Asena CEO Peter Harper focuses on the phenomenon of a virtual family office.
Peter Harper: Hey guys. Peter Harper, Managing Director and CEO of the Asena Family Office. For those of you who are not familiar with the business, we're a multi-family office that focuses on U.S. direct investments in mergers and acquisitions for foreign family offices and private clients.
Peter Harper: So today, we wanted to, again, it's the next video within our family office series. In prior vlogs, we've talked about what is a single-family office versus a multi-family office, the various components that require consideration when making a decision to establish a single-family office or a multi-family office, and why that's important for families of significant wealth.
Peter Harper: Today, we wanted to touch on this more recent phenomenon of a virtual family office. It really is, in my opinion, a bit of a marketing spin, but I think it's important for people to understand what it is because it's often referred to more widely today than it may have been five years ago.
Peter Harper: So, just to recap, a single-family office is an organization that's established by family of significant means that has either experienced a substantial change in their liquid net worth through the sale of a major asset or there has been a major wealth transference event from another generation, and they need infrastructure to not only manage the liquidity (manage the capital that they've either earned or inherited) and they need a bunch of sophisticated administrative services to manage both the financial and non-financial aspects of the family, right? So, in the normal course, this looks like in an office of the chief investment officer. So, someone who's focused on, you know, portfolio development and managing the capital on behalf of the family based on their goals and objectives, and then the rest of it really made up of people that you would expect to see inside a normal C-Suite. So, legal counsel, CFO, the CEO to someone that's both focused on, you know, the operational aspects of the family that may be anchored around investment or also might be anchored around, you know, private assets (sort of non-investment assets; such as your houses boats planes, etc.
Peter Harper: The multi-family office is a structure whereby a family says that they do not need the full infrastructure of a single-family office, so all of those people, right? On their own, you know, their own sort of P & L, they feel that they could be better served if they were obtaining the services of those types of people on a fractional basis, right? This is determined based on two things: 1. It can be determined based on the scale of wealth; they do not have the financial liquidity to justify the full expense of a single-family office; 2. The other piece can be that they just don't want the complexity, right? Because there's a lot of management that goes into building a full staff and managing them.
Peter Harper: The virtual family office is really this concept of a multi-family office but on a purely virtual basis. Now, I say it's a bit of a marketing ploy because, since the whole dynamic of COVID,  you know, and really over the last 20 or 30 years, this notion that if you're a multi-family office client you were still going into a physical office to engage with all the fractional components of your world was highly unlikely; it's an outdated concept. You know, COVID maybe accelerated that. So, you know, people who are multi-family clients are quite happy being in an environment where all of those different services are dealt with remotely, right? Which I think is really quite common.
Peter Harper: So yeah, in the multi-world, the distinction between multi-family office and virtual family office – I'm like, okay, is there a major distinction? I'm not sure I see it, but it's a term that's become far more common today, right? So, as the term denotes, a virtual family office is really this notion that you're receiving fractional services as a multi-family office, and all of those services are being delivered on a virtual basis, right? A lot of folks are saying, "Hey, future of family." Well, no, this is the future of what I think of every business. So, to say, "Okay, this is unique." This is a unique issue as it pertains to family offices or multi-family offices, which I think is slightly off. I think this is a dynamic that we're going to see, and we're going to continue to see across, you know, all parts of the financial services ecosystem.
Peter Harper: Just one sort of final practical thing as far as recapping. You know, we talked before about who's who in the zoo as far as who are the people you would expect to see in a family office, in a multi-family office. As far as what they are doing, right? On a monthly basis, right? As I said, they're deploying capital, so they're working out –  what is the financial objectives of the family and managing risk, as far as investment risk, on behalf of the family to meet the goals and objectives; they're thinking about the longevity of the family and family governance, right? So, how do they ensure that every member of the family is dialed in and engaged with the family objectives? Now, that can be a bit more challenging theoretically on a virtual basis, and they're thinking about, you know, coordinating the financial and non-financial objectives with a broader list of service providers,  you know, but all the same challenges that you would expect to see, right?
Peter Harper: And this is where the one part of this piece that you probably just cannot do on a virtual basis is the engagement of the family – the sort of human element; the human context too well – What is a multi-family and the family sort of investment dynamics. You know, all of that still, in my experience, needs to happen in person, right? So even if everyone's living in different places, we've got remote service providers, you know, periodically the family's getting together to look at the family mission statement, think about the family council, you know, talk about investment policy. Talk about risk management. And then think about how they're all communicating with each other, right? Obviously, they're going to be leveraging technology on a pretty substantial basis, but as I said, I think this is in line with every other business on the planet that's, you know, that was impacted pre-COVID, and they're going to be relying very heavily on, you know, someone to implement and organize all this, right?
Peter Harper: So, I think really the virtual family office is just really a further extension of the new paradigm around what a multi-family office is, right? It's more of a hybrid-type environment where, yes, you've got all these service deliveries happening on a virtual basis, but if you are periodically engaging, whether it's monthly or quarterly, as a family to work through all the various items that you need to, depending on how complex the infrastructure needs are as a family, right, and how big the family is. That's it. Cheers, guys.
To find out more about our Family Office services,
reach out to us via the Contact Us section to the right.