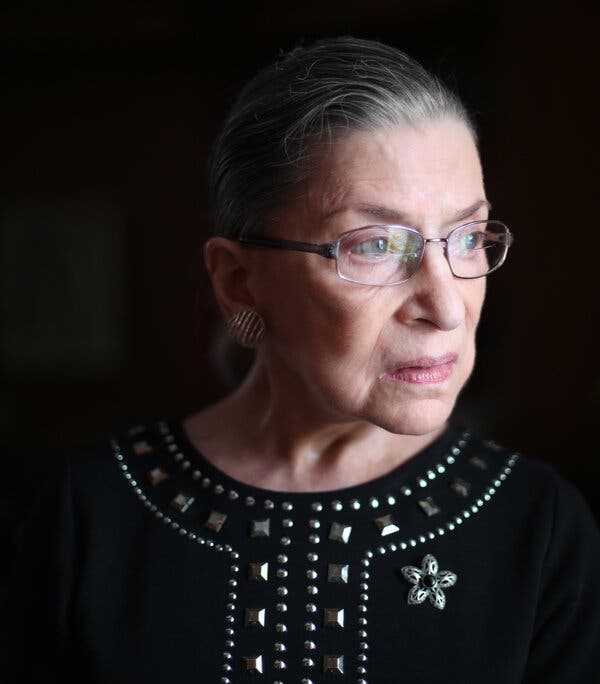 Justice Ruth Bader Ginsburg and the Legacy of Perseverance
On September 18th, 2020, US Supreme Court Justice Ruth Bader Ginsburg passed away in her D.C. home due to metastatic pancreas cancer. At 87 years old, Justice Ginsburg served on the Supreme Court for 27 years and was the second woman to do so. Beyond her fiery dissents and passionate decisions, Ginsburg was and continues to be most renowned for her tireless work and fair judgment. Regardless of political opinions, it can be said that the Notorious RBG was perseverant and an icon to people everywhere.
Her Trials
Born on March 15, 1933, in Brooklyn, New York, Joan Ruth Bader was a diligent worker and made the best of the cards she was dealt with. Growing up in a low-income household, she worked her way up to graduate from Cornell University in 1954 summa cum laude as a Phi Beta Kappa and with a degree in government. After marrying Martin Ginsburg – an accredited tax attorney, having her first child – Jane, and moving to Oklahoma for Martin's military service, Ruth started at Harvard Law school in 1956. As one of nine women at Harvard, Ruth faced discrimination yet excelled academically and became the first female member of the prestigious Harvard Law Review. Martin Ginsburg fell ill with testicular cancer during this time, meaning RBG juggled life as a woman in law school and family obligations – a feat that more and more women face today.
With one year left of law school, Ruth Bader Ginsburg moved to New York City and transferred to Columbia Law. Even after her impeccable grades in law school- graduating summa cum laude – Ginsburg was unable to find a job due to her gender. After some recommendations, she was able to clerk for U.S. District Judge Edmund L. Palmieri which she continued to do for 2 years then joined the Columbia Project on International Civil Procedure and went to Sweden.
Upon her return to the States, she taught at Rutgers University then Columbia University, becoming the first female professor to earn tenure there. By the late 1970s, RBG became a prevalent pursuer of the Women's Rights movement – even arguing 6 major cases in the Supreme Court.
Her Justice
A key factor in Ruth Bader Ginsburg's fight was her wish for true equality, meaning she fought equally for the rights of men and women. This nobility led to her nomination to the U.S. Court of Appeals for the District of Columbia in 1980 by then-President Jimmy Carter. Following 13 years on the bench, former-President Bill Clinton nominated her to the US Supreme Court in 1993. After an outstanding confirmation process in which 93 senators voted in her favor, Justice Ruth B Ginsburg became an Associate Justice in the highest court in the American judiciary. She made history as the second female, the first Jewish female, and the longest-lasting Jewish member of the SCOTUS.
In this seat of power, Justice Ginsburg did not sway in her morals; she was qualified as a liberal but wasn't afraid to vote outside of predetermined lines if she felt strongly. Still a staunch proponent of gender equality, Ginsburg made reforms through cases like the United States v. Virginia, 518 U.S. 515 (1996) (a case striking down the long-standing male-only admissions of the Virginia Military Academy) through slow and calculated moves. Her views on the Constitution were just that: views based on the Constitution. She, most admirably, refused to let her personal opinions determine her position on a case, instead, using a calculated and steady view of the law.
Throughout the course of her lengthy career as a Supreme Court Justice, RBG was known to be resolute in her views of justice. Not afraid to voice a dissenting opinion or barrage an oral argument with questions, Justice Ginsburg was beyond competent, she was admirably unstoppable.
Until 2018, she had not missed a day of oral arguments when she was undergoing chemotherapy for pancreatic cancer, after surgery for colon cancer, or the day after her husband passed away in 2010. She was quoted saying that she "would remain a member of the Court as long as I can do the job full steam" and claimed to be able to do so in July 2020 – while dealing with her 5th battle with cancer.
Her Legacy
Chief Justice John Roberts said "Our nation has lost a jurist of historic stature. We at the Supreme Court have lost a cherished colleague. Today we mourn, but with confidence, that future generations will remember Ruth Bader Ginsburg as we knew her — a tireless and resolute champion of justice."
And "historic stature" is putting it mildly; even after her passing, she continues to make rifts in the world, even beyond politics.
The biggest takeaway from the late Justice is to keep going. She didn't let discrimination stop her. She didn't let cancer stop her. She didn't let familial issues stop her. And she sure didn't let the opinions of others stop her.
Irregard of political ideals, Justice Ruth Bader Ginsburg is admirable for her sheer grit and determination. If all of us had even a fraction of the perseverance she did, our lives, families, and businesses would flourish. Her work and work ethic left behind a legacy beyond case law: she has inspired millions of men, women, and children to do what they think is just. Even post-mortem, she makes headlines for her work, not just the political impact of her passing.
That's the most important thing: doing your best to leave a legacy behind for your loved ones to follow. Whether this is passing down values, educating your family, or planning for your financial future, leaving something meaningful behind for your family to continue is the best thing we can do.
"I would like to be remembered as someone who used whatever talent she had to do her work to the very best of her ability."
~ Justice Ruth Bader Ginsburg
Here's a tribute to the wonderful woman that was Justice Ruth Bader Ginsburg. May her mind, body, and soul rest in peace, and may her legacy live to inspire others for centuries to come.
Written by:
Prerna Polepally
Intern
US-Australia Tax Desk