Equity markets are pricing in a worse than average US recession. The VIX is at 80. Have we seen the worst?
Look at history – present volatility suggests peak panic will create a bottom in stock prices.
VIX peaked in October 2008. S&P500 price bottom in March 2009.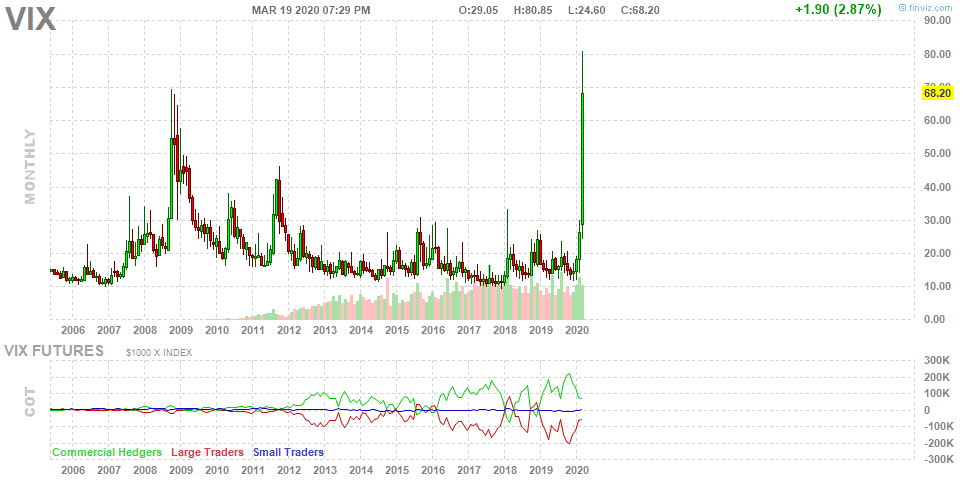 Source: Finviz, 19 March 2020
Peak panic is not a floor but does indicate early signs of bottoming process beginning. That said, market technical's are still horrible – we have broken through every cyclical support line and secular support for the bull market trend.
However, less than 1% of stocks are trading above their 50 day moving average. That usually occurs at peak panic and precedes the bottom of stocks by about 30 days.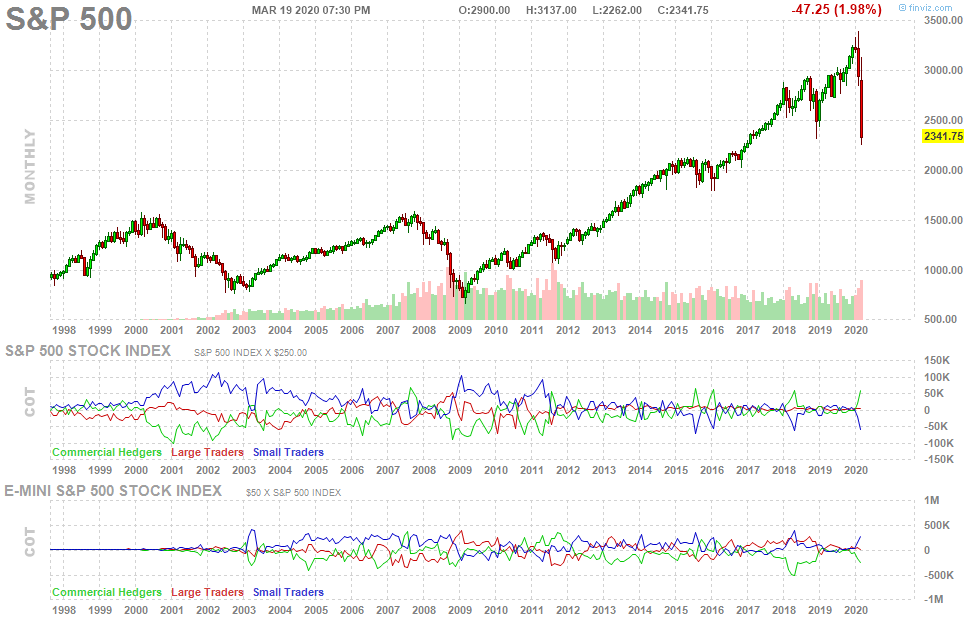 Source: Finviz, 19 March 2020
Investors should note that the VIX is simply a coincidental indicator; a measure of current volatility with little or no predictive or indicative value regarding the course of the market. Albeit coincidently, after peak panic moments, twelve-month equity returns are usually positive (and usually positive by double digits).
Conviction on fundamentals?
There are questions as to where earnings are headed. We are in an information vacuum with respect to the fundamental outlook. That's going to continue to weigh on confidence and sentiment. But there are very reliable indicators and lessons that we can get from the market itself to give us some guide.
Valuation is critical. The current US equities price/earnings ratio (S&P500 PE) is 15. The last three recessions P/E's were between 10 and 13. Most investors use forward earnings multiple as most indicative of the environment, and where we're going to bottom. The trouble with looking at that multiple in the environment we're in right now is that we truly have no indication of where earnings are headed in the next twelve months. Guidance has dried up.
We're not likely to get an accurate understanding until first quarter earnings season.
The trailing multiple can be more indicative of where pricing is in equities. It's more fallen below 15 for the first time since 2013. We've seen considerable re-pricing. What's an appropriate multiple? Given extent of the balance sheet movement by the fed and rate reduction to zero, a multiple of 19x is appropriate. Will investors pay 19x with questionable earnings right now? Probably not. Markets are pricing in 22% decline in earnings next twelve months. This suggests that there is more support to the equity market than what is currently imbedded in prices.
There will undoubtedly be opportunities for investors to capture the rally but please try to avoid the falling knife!
*Most recent data at the time of writing (03/18/2020)
Disclaimer: The information in this article and the links provided are for general information only and should not be taken as constituting professional advice from WoodPoint Capital LLC ("WPC"). This is not a solicitation of an offer to buy, you should consider seeking independent legal, financial, taxation or other advice to check how the information relates to your unique circumstances. WPC is not liable for any loss caused, whether due to negligence or otherwise arising from the use of, or reliance on, the information provided directly or indirectly, by use of this article