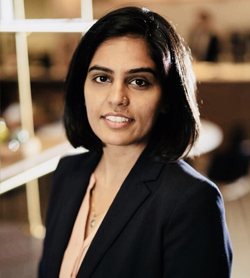 Janpriya Rooprai
Managing Director and Head of the India Tax Desk
B.Com. (Hons. Business Finance Accounting), India; C.A., India; LLB, India; LL.M. (Taxation), US; MBA, US.
She is a seasoned professional and focuses her practice on cross-border tax planning, including mergers, acquisitions and structuring for global entrepreneurs and founders, middle market enterprises, high net worth individuals and global mobile executives.
Janpriya has completed her Master of Laws in Taxation from Georgetown University and Masters in Business Administration in the US.  She has certification in Chartered Accountancy and under-graduate degrees in law and commerce with honors in business financial accounting in India.  Her interest is to help global entrepreneurs and high net worth individuals to address tax issues to align their business structures with commercial and personal needs.